Buy in Bulk and Save!

20

or more

$12.79

each
1 sausage
Contents: 20 fluid ounces
Formerly Sonolastic 150 with VLM Technology
Very low-modulus, nonsag, elastomeric, silyl-terminated polyether (hybrid) sealant
Tack-free time: 90 minutes
Movement capability: +⁄- 50%
Application: vertical, horizontal, inside and outside
Shelf life: 15 months when stored properly
MasterSeal NP 150, formerly Sonolastic 150 with VLM Technology, is a high performance, very low-modulus, high-movement, non-sag, fast-curing, hybrid sealant. Masterseal NP 150, formerly Sonolastic 150 with VLM Technology, provides superior adhesion results in a long-lasting bond. NP 150 is a low modulus to accommodate for joint movement (100% extension in EIFS joints with little stress on bond line). This polymer sealant can be painted with elastomeric coatings soon after installation and is easy to gun and tool which speeds up the application time. It can be used in a wide temperature application range and is weather resistant for long-lasting weathertight seals. Masterseal NP 150's fast curing helps to speed up jobsite production and its non-staining formula can be applied to stucco, concrete, aluminum, masonry, wood, stone, metal, vinyl, fiber cement siding and other sensitive substrates. Masterseal NP 150 is available in ProPaks (sausages) to reduce jobsite waste and lower disposal costs and meets all state and federal VOC regulations.
Applications
stucco,
concrete
concrete highways
aluminum
masonry
wood
wood window frames
stone
metal
vinyl
fiber cement siding
vertical and horizontal, interior and exterior joints
fascia
above grade
joints with high movement (i.e. expansion joints)
in place of silicone sealants
store front systems
expansion joints
panel walls
precast units
parapets
sanitary applications
Limitations
Not for use in glazing applications. Do not apply on glass and plastic glazing panels.
Do not allow uncured sealant to come into contact with alcohol-based materials or solvents.
Should not be applied adjacent to other uncured sealants and certain petroleum based products.
Should not be used for continuous immersion in water.
Do not apply over freshly treated wood. Allow six months for weathering.
Do not use on nonporous surfaces such as aluminum, steel, vinyl or Kynar 500 based paints. Use MasterSeal P 173 on coated metals when testing dictates.
Lower temperatures and humidity will extend curing times.
| | |
| --- | --- |
| Brand | BASF |
| Series | |
| Container Size | |
| Container Type | |
Available Options
| SKU | Color / Finish | Case Qty |
| --- | --- | --- |
| NP150BLS | Black | 20 |
| NP150WS | White | 20 |
| NP150OWS | Off-White | 20 |
| NP150SPBRZS | Special Bronze | 20 |
| NP150LS | Limestone | 20 |
| NP150ALGRYS | Aluminum Gray | 20 |
Technical Information
| | |
| --- | --- |
| Manufacturer | BASF |
| Series | MasterSeal NP 150 |
| Quantity | 1 sausage |
| Contents | 20 fluid ounces |
| Paintable | Yes (with elastomeric coatings soon after installation) |
| Movement capability | ±50 |
| Extension | 100% |
| 100% modulus | .24 MPa |
| Tensile strength | .96 - 1.24 MPa |
| Tear strength | 7.1 kg/cm |
| Ultimate elongation at break | 800 - 1000% |
| Hardness Shore A | 17 |
| Skinning time | 3-4 hours |
| Tack-free time | 90 minutes |
| Full cure | 1 week |
| Shrinkage | None |
| Service temperature range | -40° to 82° F |
| Shelf life | 12 months |
ASTM C 920, Type S, Grade NS, Class 50, Use NT, M, A, and O* -capable of +100/-50% movement under typical field conditions.
ASTM C 1382 for use with EIFS wall systems at 100% Extension
Federal Specification TT-S-001543A, Type II, Class A, Type Nonsag
Federal Specification TT-S-00230C, Type II,Class A
Corps of Engineers CRD-C-541, Type II, Class A
CFI accepted
USDA compliant for use in areas that handle meat and poultry
Comparable Products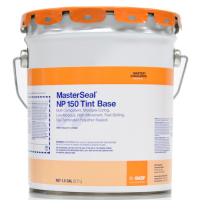 Product Not Available